Airbus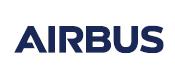 Airbus is an international reference in the aerospace sector. We design, manufacture and deliver industry-leading commercial aircraft, helicopters, military transports, satellites and launch vehicles, as well as providing data services, navigation, secure communications, urban mobility and other solutions for customers on a global scale.
With a forward-looking strategy based on cutting-edge technologies, digital and scientific excellence, we aim for a better-connected, safer and more prosperous world.
You Believe What We Believe
Sponsor an organization that believes in the advancement of women across aviation and aerospace.