Christine Ourmieres-Widener, winner of The Inspirational Role Model Award
In June at its Annual General Meeting in Seoul, IATA chose the first recipients of a series of awards designed to promote gender inclusion in the airline industry with the IATA Diversity & Inclusion Awards. It is a step in the right direction a year after the industry was criticized during the IATA Annual General Meeting in Sydney last June for its lack of inclusion. The issue of the under-representation of women in airline management took center stage at last year's IATA general meeting after the organization posted a photo of its board of governors on Twitter that featured 25 men and just one woman: Christine Ourmieres-Widener, CEO of the regional European carrier Flybe. At that same meeting, IAWA's efforts on diversity were featured when IAWA's Mylene Scholnick led a discussion on gender equality that preceded a panel of male CEO's that also directly addressed the topic.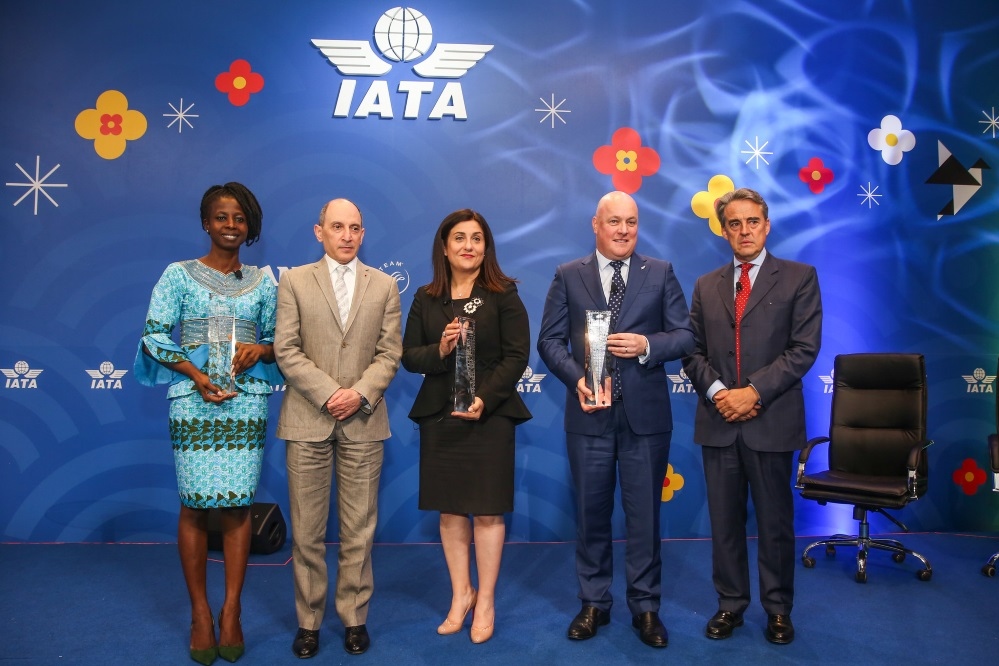 IATA's Director General Alexandre de Juniac has said "it's a long-term issue and we will have to work on it for the next five or 10 years." IAWA commends IATA on taking action with these diversity awards as a step in the right direction. For IATA's Diversity & Inclusion awards, IAWA nominated candidates in each category who were very qualified. Two of IAWA's nominees also were short listed –for the High Flyer Award, an IAWA scholarship recipient Kathryn Guerrero was nominated. Katherine graduated Magna Cum Laude from Vaughn College with a Bachelor's of Science in Aeronautical Science (Flight) with a focus in Air Traffic Control and she is determined to become a commercial airline pilot for a major carrier. She was the recipient of the Service Award, Athletics Award, and the Bessie Coleman Award-named after the first African American female pilot. Katherine currently holds a Private Pilot license with instrument ratings and her training is ongoing. We also nominated Qantas for the Diversity & Inclusion Team for their work including their CEO sponsoring IAWA in the program for the gender equality discussion led by Mylene.

One IAWA nominee won an award! Christine Ourmieres-Widener, a past IAWA speaker and member was the winner of The Inspirational Role Model Award - she has been one of very few women leading airlines for years and created an industry leading diversity and inclusion program at Flybe. Christine said she would put her prize of $25,000 toward a scholarship for an aspiring female aviation student. "Young girls should be encouraged to have the same ambitions as young boys," Ourmieres-Widener said.

The other winners were Air New Zealand, for The Diversity and Inclusion Team Award for its effort to hire woman executives. In his acceptance speech, Air New Zealand CEO Christopher Luxon challenged the industry to take real steps toward reversing what he called its "pretty abysmal" record on gender diversity. He said airlines should set targets related to hiring women in order to overcome bias.

The Young High Flyer Award was received by Fadimatou Noutchemo Simo, Founder and President, Young African Aviation Professional Association (YAAPA) recognizing her as one of aviation's women under 40 who has started to develop her career in the industry and her leadership through inspirational work. Fadimatou founded YAAPA, an outreach program to encourage underprivileged children in rural areas of Africa to consider aviation as a future career choice with programs that provides scholarships and mentoring all over Africa.